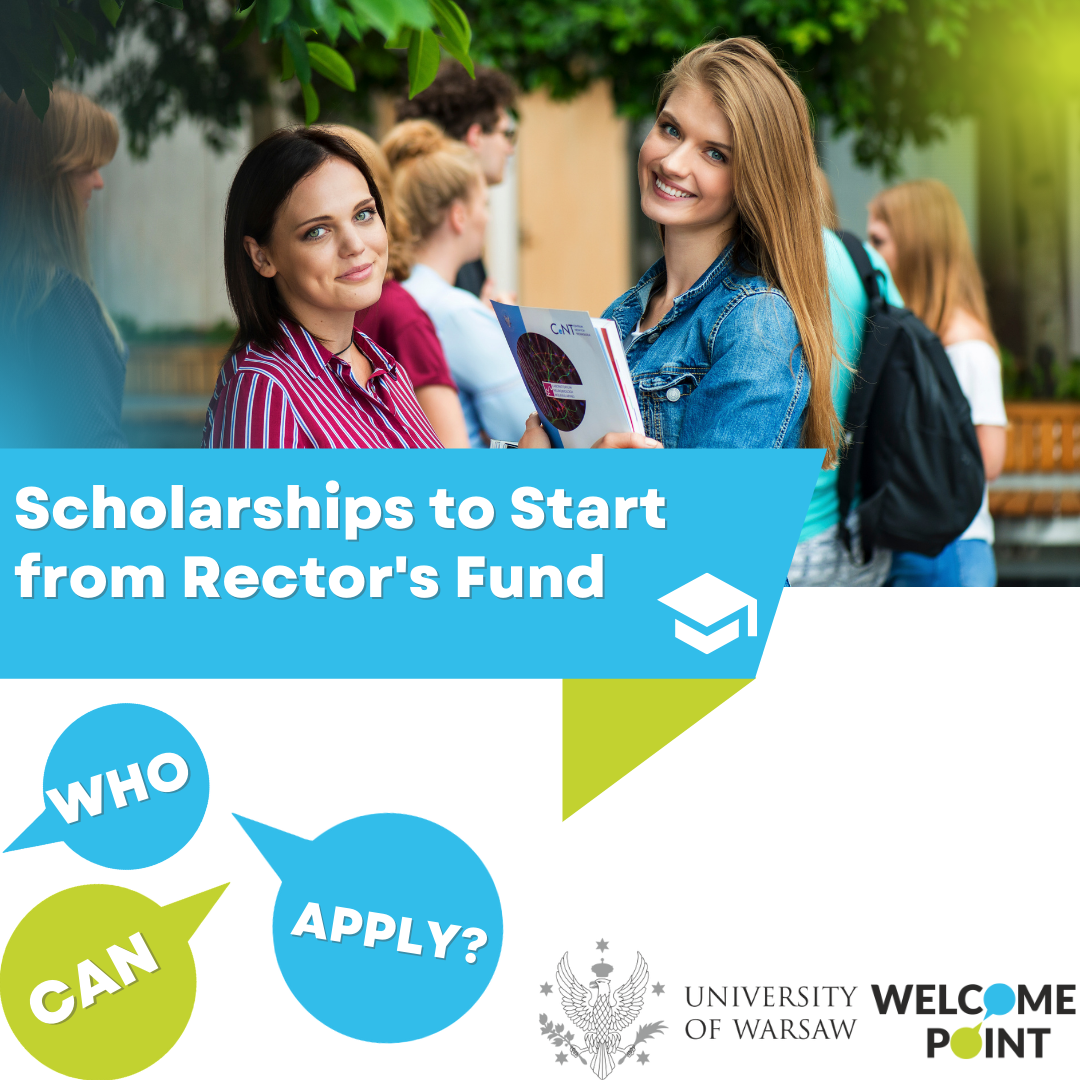 A "Scholarships to Start" program is being offered from Rector's Fund by the University of Warsaw beginning since 2022–2023 academic year. It is addressed to the most talented students and PhD candidates who have been accepted to the University of Warsaw or Doctoral School in a certain academic year.
The program offers three different types of scholarships:
1. Scholarship to Start for Olympians:
This scholarship is adressed at first-year students in first-cycle or long second-cycle studies. Scholarship is offered for students who have won subject competitions and have received the highest amount of points during the recruitment process for their studies, based on their title as a subject competition winner.
2. Scholarship to Start for Athletes:
The given scholarship is awarded to students in the first year of the first-cycle, second-cycle, long second cycle studies, as well as first-year doctoral candidates at doctoral school, who are outstanding athletes with the status of medalist of Polish Championships or finalist of the Olympics, World, or European Championships. It is also for students, who are eligible for the Rector's scholarship in the academic year in which they apply for the "Scholarship to Start."
3. Scholarship to Start for Doctoral Candidates:
Ths scholarship is intended for first-year doctoral students at a doctoral school, who achieved in the recruitment procedure a score of 20% of the highest results in a given discipline or within the educational program in a given doctoral school.
How to apply?
Students and PhD candidates who wish to apply for the Scholarship to Start should  fill out an application. Please fill out the following fields on the application:
 Type of scholarship Start (for Olympians, for Athletes, for Doctoral Candidate
Name, Surname
Pesel (or passport) number
Address
Telephone number
E-mail
Description of the achievements that form the basis for applying for the scholarship
Bank account number
 The name of your field of study or the name of the scientific discipline, or the doctoral program of study
 Name of your department or doctoral school
Handwritten signature
What else?
After filling out the application, please make sure that you attached the confirmation of your achievements (Candidates for Scholarship to Start for Doctoral Candidates do not have to attach the confirmation)
When can I apply for the academic year 2022/2023?
Application can be delivered until 10th of February, 2023. The application can be delivered:
How much does the scholarship cover?
After the application period has concluded, the scholarship amount will be announced. The scholarship is given for a period of 12 months and will be paid in full within 30 days of being awarded.
If you have any questions, write to: bpm@uw.edu.pl. Don't wait!