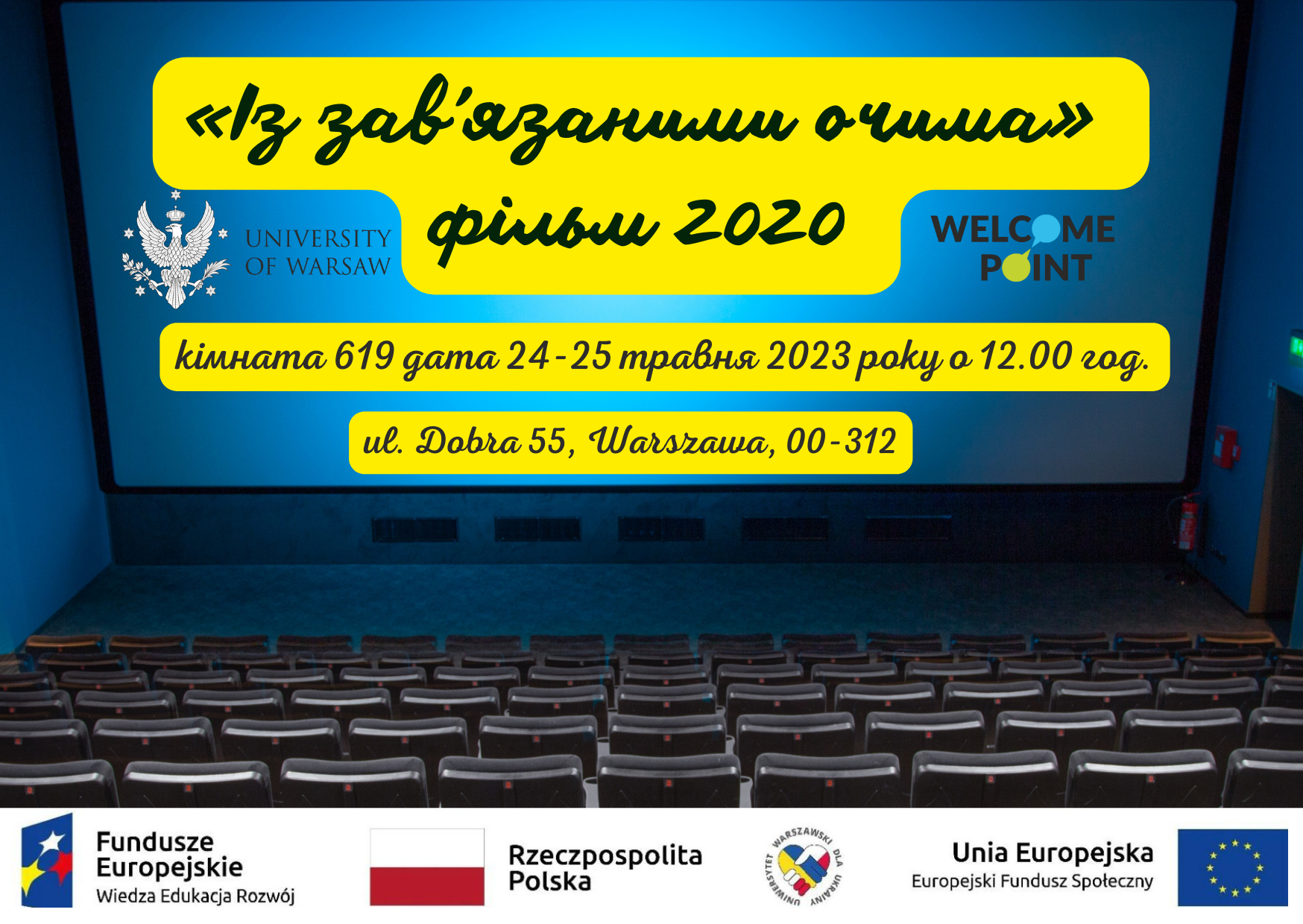 English version below.
Welcome Point запрошує! На перегляд українського сучасного кіно «Із зав'язаними очима» 2020 року, міжнародна назва – Blindfold. Цей фільм переможець фестивалів та конкурсів, між іншим, Варшавського кінофестивалю чи київського фестивалю Молодість.
Він перекликається із сумним сьогоденням нашої держави, проте ми не можемо не показати його вам, бо це кіно дійсно світового рівня. Ми пропонуємо Вам найкраще і дбаємо, щоб Ви могли подивитися щось особливе. Варто знати, що у вільному доступі цього фільму немає.
Тож приходьте до нашого імпровізованого кінотеатру  у кімнаті 0619 та ексклюзивно подивіться на власні очі. До речі трансляція передбачена з англійськими субтитрами, а це можливість потренувати свої навички.
вул. Добра 55, 00-312, Варшавський університет, будинок Неофілології, партер, кімната 619 о 12:00.
Як долучитися?
Ми покращуємося для вас — відтепер пропонуємо більше місць і можливість вибрати зручний день.
https://forms.gle/w2Gz56BMitQGz49JA – реєстрація на середу 24 травня
https://forms.gle/dn7dUG1NPhHX85Q67 – реєстрація на четвер 25 травня
Реєстрація триває до 23 травня 10:00 години.

Зверніть увагу, що заняття в цьому циклі є виключно стаціонарними.

В зустрічах можна брати участь з п'ятнадцяти років, діти молодшого віку за участю батьків.

Проєкт профінансовано Європейським Союзом.
---
Welcome Point invites you! To the screening of the 2020 Ukrainian contemporary film Blindfold. This film is the winner of festivals and competitions, including the Warsaw Film Festival and the Molodist Festival in Kyiv.
We want to show it because it is a truly world-class film. It resonates with the sad present of our country. We offer you the best and make sure you can watch something special.
So come to our makeshift cinema in room 0619 and watch it exclusively. By the way, the broadcast is subtitled in English, which is an opportunity to practice your skills.
Dobra 55, 00-312, University of Warsaw, Modern Language Faculty Building, ground floor, room 0619 at 12:00.
How to join?
We are improving for you – now we offer more places and the opportunity to choose a convenient day.
https://forms.gle/w2Gz56BMitQGz49JA – registration for Wednesday 24 May
https://forms.gle/dn7dUG1NPhHX85Q67 – registration for Thursday 25 May
Registration is open until 23 May at 10:00.
Please note that the classes in this cycle are exclusively stationary.
Participation is open from the age of fifteen, younger children are welcome with parental supervision.
The European Union funds the project.