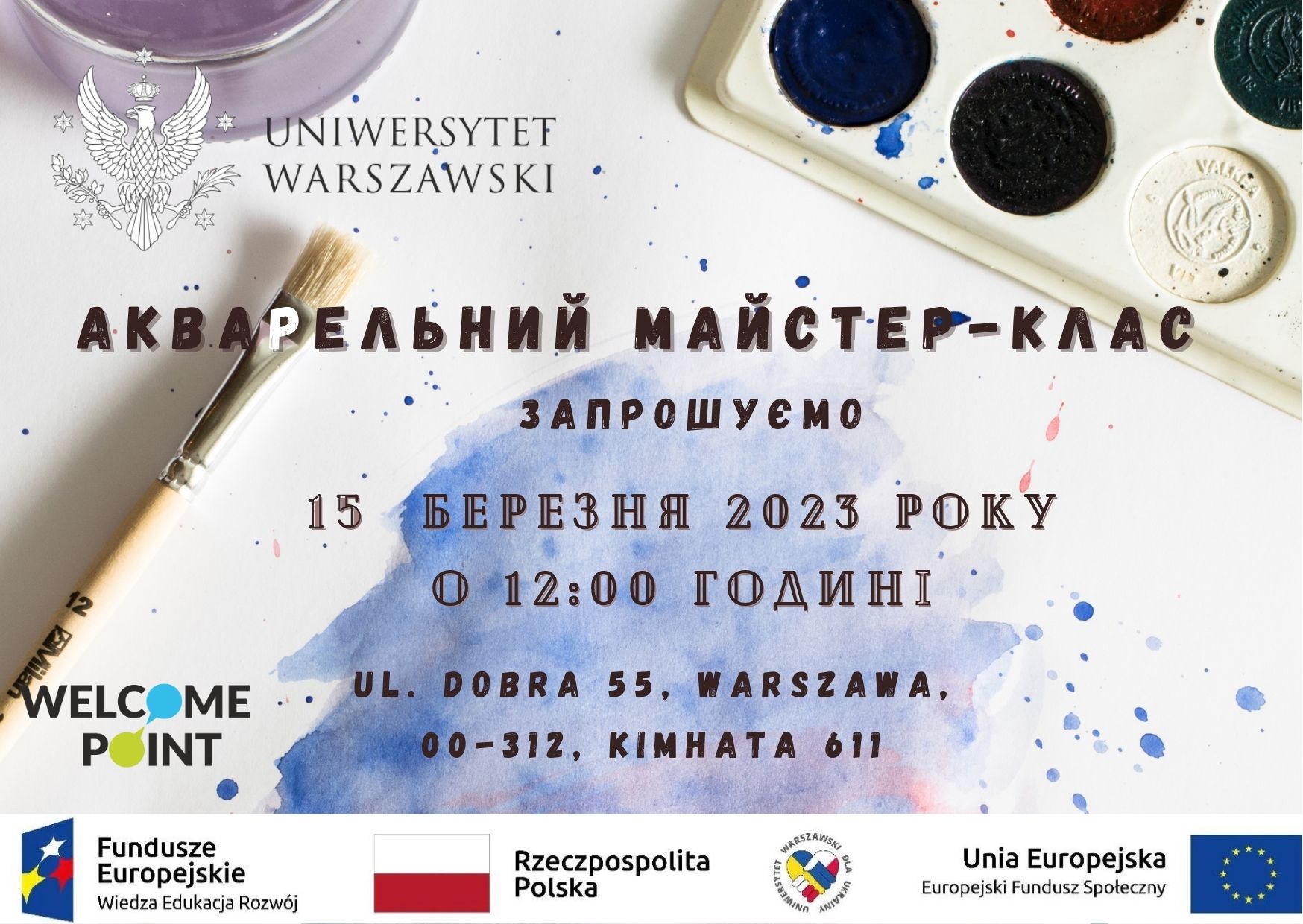 English version below.
Наша команда WELCOME POINT  цього разу  підготувала для вас новий захід. Акварельний майстер-клас де кожен з Вас може відчути себе художником та поринути в атмосферу творчості та світ барв.   Ми працюємо над тим, щоб зробити ваше життя яскравішим!
Приєднуйтесь швидше, бо кількість місць обмежена та створюйте мистецтво разом з нами, а також діліться своїм досвідом творчого проведення часу. Ця зустріч це простір для спілкування, натхнення та позитивного настрою.  Матеріали розраховано на 30 осіб, тому  вхід тільки за попередньою реєстрацією:
https://forms.gle/y8t5hBTaiYFXrmyx6
Де?
вул. Добра 55, 00-312, Варшавський університет, будинок Неофілології, перший поверх, кімната 611.
Брати участь у заняттях можуть тільки особи зі статусом УКР.

Звертаємо увагу, що для доступу до всіх занять у програмі має бути заповнений формуляр і підписана декларація. Якщо Ви ще не зареєструвалися, це можна зробити

за посиланням.
P.S. Якщо у Вас раптом зміняться плани й не зможете прийти, будь ласка, попередьте нас про це, щоб ми могли запросити іншу охочу особу.
P.P.S. Речі можна залишити в гардеробі на -1 поверсі.
---
Watercolour master class where you can feel like an artist and plunge into the atmosphere of creativity and the world of colours. We are working to make your life brighter!
Join us soon, as the number of places is limited, and create art with us, as well as share your experience of creative pastime. This meeting is a space for communication, inspiration and a positive mood. The materials are designed for 30 people, so the entrance is by prior registration only: https://forms.gle/y8t5hBTaiYFXrmyx6
Location.
55 Dobra St., 00-312, University of Warsaw, Modern Languages Faculty Building, first floor, room 611.
Only persons with UKR status can participate in the classes.

Please note that to access all classes in the program, you must fill out a form and sign a declaration. If you have not yet registered, you can do so by following the link.
P.S. If you suddenly change your plans and cannot come, please let us know so that we can invite another person.
P.P.S. You can leave your belongings in the wardrobe on the -1st floor.