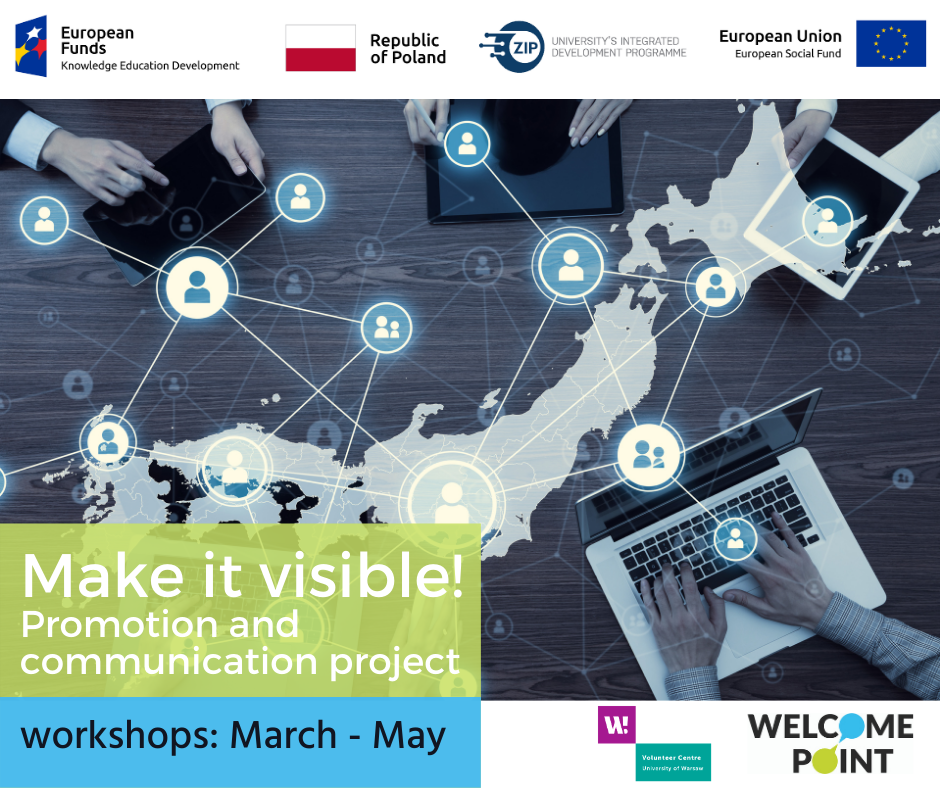 So many interesting and valuable events and projects take place every month at our University, and yet the information struggles to reach the students who might be interested. We would like to change it and invite you to join us! Welcome Point and The Volunteer Centre of The University of Warsaw has just started recruitment for online workshops 'Make it visible! Promotion and communication project'

The team of selected international students will take part in the series of online interactive workshops dedicated to promotion and communication, cross-cultural skills and video making. The grand finale of the project will be a preparation of an official video promoting extracurricular activities among the academic community.
The workshops will be conducted by experienced trainers and project coordinators. Communication and promotion experts will also join us to share their knowledge and tips with you!
When and where?
Online meetings will take place every two weeks on Wednesday afternoon, from March to May. Here you can find a detailed agenda. If you qualify for the workshop, we will send you a link to the online meeting platform.
This is definitely something for you if:
you are interested in developing your skills such as teamwork, time management, creativity and intercultural awareness in the field of promotion and communication
you are interested in developing your professional experience and broaden your knowledge
you want to learn how to prepare and conduct promotion procjects
you are more like marathon runner than sprinter – project will last 3 months and your attendance at meetings is essential for us (only 1 absence is allowed)
you have free Wednesday afternoons
Who can participate?
2nd and 3rd year students of 1st cycle (Bachelor's degree)
4th and 5th year students of uniform Master studies
students of Master's degree studies (Master's degree)
 Rules and Regulations of the project can be found here.
How to join the project?
There is a two-step application process:
Deadline: January 31, 2021 11:59 pm (23:59, CET)
Secondly, we will invite chosen participants for the online interviews in order to get to know each other and present the details of the project
In case of any questions please contact us via email: welcome.event@uw.edu.pl
If you would like to join the project, but you're busy on Wednesdays, contact us and let us know when you are available!
Please also join our FB event.

'Make it visible! Promotion and communication project' workshops are organised within the Integrated Development Programme at the University of Warsaw and funded by European Social Fund. The objective, pursuing at the University of Warsaw between 2018-2022, is to develop competence of students and employees as well as implement the instruments which upgrade the management process of the University of Warsaw.