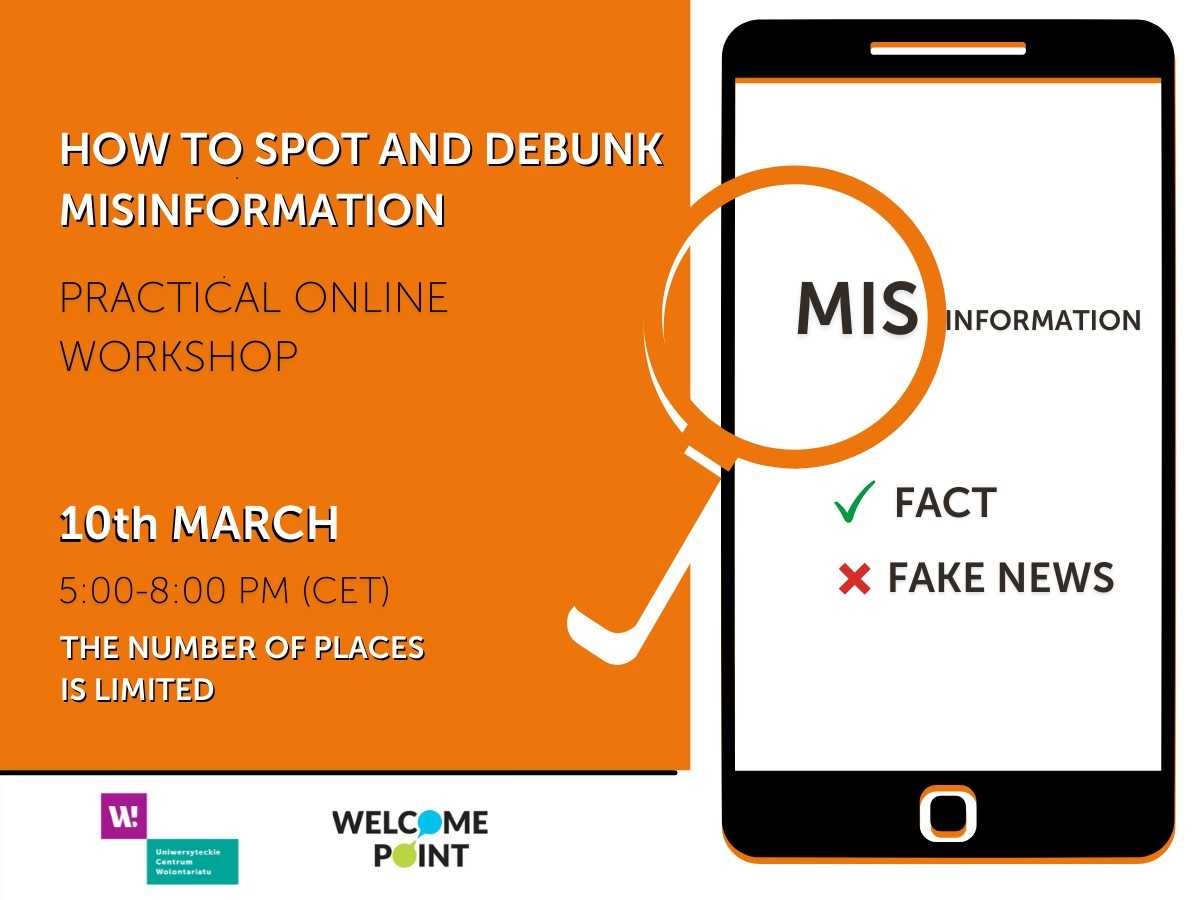 Currently, each of us is faced with a huge amount of news from information portals and social media. Unfortunately, some news are created to mislead recipients and cause information chaos. Therefore, the Volunteer Centre of the University of Warsaw and UW Welcome Point invite all interested students, graduated and active and retired employees to a training which will show how to verify every day Internet information.
What is fake news and how to recognize it? How do you know if a post was written by a bot or if it was created to spread false content?
During the practical workshop Daniel Rząsa, a journalist who has worked at Google, will show you how to use search engines in a smart way, how to quickly check if the photo you are dealing with is real, and how to find out if the post on Facebook or Twitter is authentic.
At the workshop, you will learn how to recognize fake news and learn how to use the tools with which the best researchers and fact-makers in the world discover huge scandals. Especially today in the face of the ongoing war in Ukraine these skills can be useful.
When?
Thursday, March 10th from 5PM to 8PM
The workshop will be held online via the Zoom platform.
How to apply?
We invite the University of Warsaw community to participate in this workshop: students, doctoral students, graduates, active and retired employees.
In order to participate in the workshop, please fill out the Google form  
Please note that the number of participants is limited.
About the lecturer:
Daniel Rząsa serves as Editor-in-Chief of the Polish economic news website 300Gospodarka.
Apart from his editorial role, he teaches fact-checking and verification, multimedia and data journalism, as well as advanced online research.
In 2018 he served as Teaching Fellow, at Google News Lab, where he trained over 4000 people across 14 countries on topics such as research, information verification, data journalism, mapping, multimedia journalism.
Daniel holds an MA in financial journalism from City, University of London and graduated from the Council of Europe's Visegrad School of Political Studies, an international programme designed to train future leaders of CEE.