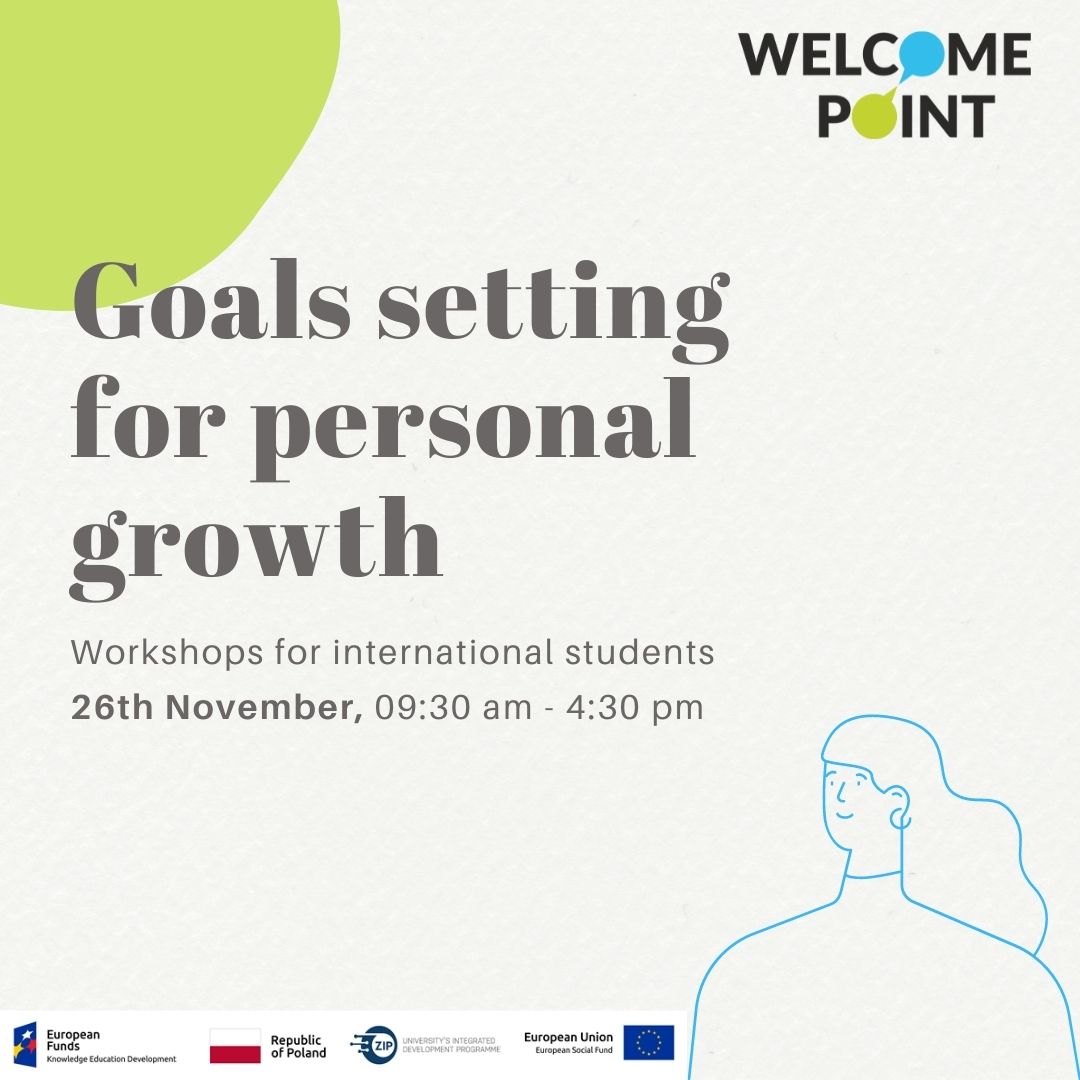 Check the next event organised by the Welcome Point!
Achieving some since long pursued goal gives a feeling of fulfilment and boosts the self-esteem. The best example is when we watch Olympics or other sports competition getting even as emotional of successes of others as of our own. The end was clear – to get the golden medal, to beat the competitors, to win the games, to prove the impossible. The motivation and feeling of accomplishments moves people up in personal growth. It would be great to have this Olympics feelings more often than every few years and based on our own accomplishments.
This is where the ability to set goals in a smart way comes in play.
It is a skill that pays off in both, personal and professional life, that's why we would like to invite you to our next workshops: 'Goals setting for personal growth'.
The course includes:
Exercises identifying the vision for life/10 years/5 years/one year – Identifying a Whole Life Vision that maps onto a 10 year vision and then maps onto 3 month vision
Choosing Goals to Move Forwards With – Brainstorm their vision and goal ideas. Select meaningful goals that add real value to our lives
The strategies to set goals: Set SMART goals (specific/measurable-action oriented-realistic-timebound) – discover your motivation leverage – be active – be creative – understand your why – know your resources – dealing with obstacles – prioritization – staying focused;
Good tips on goal-setting tips – see procrastination as a gift – understand your WHY – go slow and achieve more – staying on track – believe in you or know what and when to let go;
Getting motivated and choosing a strategy that works for you
Exercises: Setting this year goals – The process of setting 3 specific Annual Goals – from starting out right through to choosing an action to take tomorrow
WHEN?
The workshop will be conducted in English and will take place on 26th November from 9:30 am to 4:30 pm.
Workshops hours include a break.
WHERE?
The Volunteer Centre of the University of Warsaw
address: Dobra 56/66 00-312 Warsaw (University of Warsaw Library Building – BUW) 
Who can participate? 
2nd and 3rd year students of first cycle (Bachelor's degree)
4th and 5th year students of uniform Master studies
students of second cycle (Master's degree)
Hurry up! The places are limited.
To register to the course please fill in the form.
Application deadline: 15th November (Monday) 2021, 12 pm.
Please also join our FB event.
Regulations of the workshops can be found here.
'Goals setting for personal growth'  workshop is organised within the Integrated Development Programme at the University of Warsaw and funded by European Social Fund. The objective, pursuing at the University of Warsaw between 2018-2022, is to develop competence of students and employees as well as implement the instruments which upgrade the management process of the University of Warsaw.