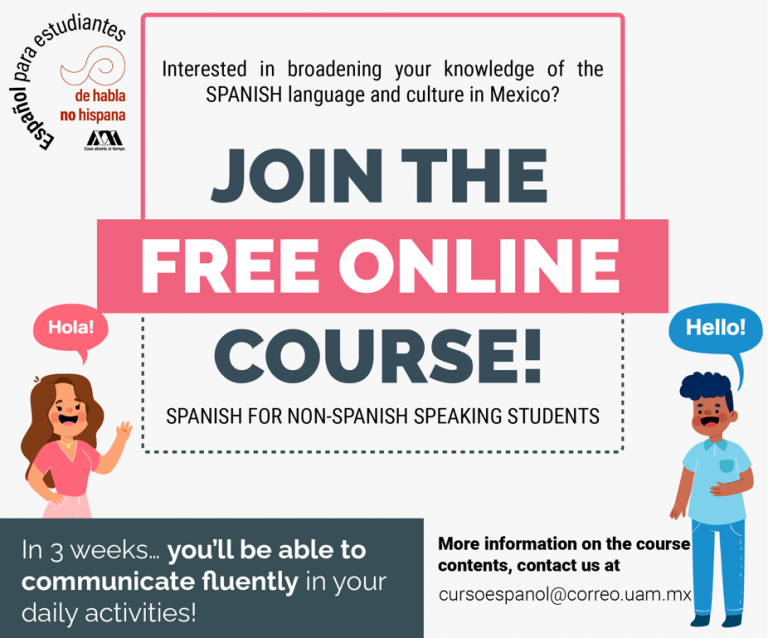 Universidad Autónoma
Metropolitana, Mexico is organizing a free three-week Spanish language course!
Website address: https://www.uam.mx/
Number of scholarships: 5 places
Course date: 13 – 31 March 2023
Eligible UW units: all
Financial conditions: the course is free of charge, delivered online on the Google Classroom platform
Required documents:
Permission to attend (fill up in Polish and sign up by head of the teaching unit)
Certificate of grade point average for the whole study period (min. 3.49) (in Polish)
Letter of motivation (can be in Polish or English)
Important:
The final decision on admission will be made by the host university.
Knowledge of Spanish is not required
Participants who complete the course will receive certificates of participation
Deadline for submission of documents to BWZ: 6 March 2023.
Place for submission of documents:
Please send your documents (only PDF scans will be accepted) electronically to the exchange coordinator using only university electronic mail (§3 of UW Rector's Order No. 279 of 10.12.2020).
Exchange coordinator:
Ireneusz Grejcz
e-mal: ireneusz.grejcz@adm.uw.edu.pl
phone: 22 55 24 008
International Relation Office
Krakowskie Przedmieście 26/28, 00-927 Warsaw
Old BUW, room 207
Website address: https://www.uam.mx/