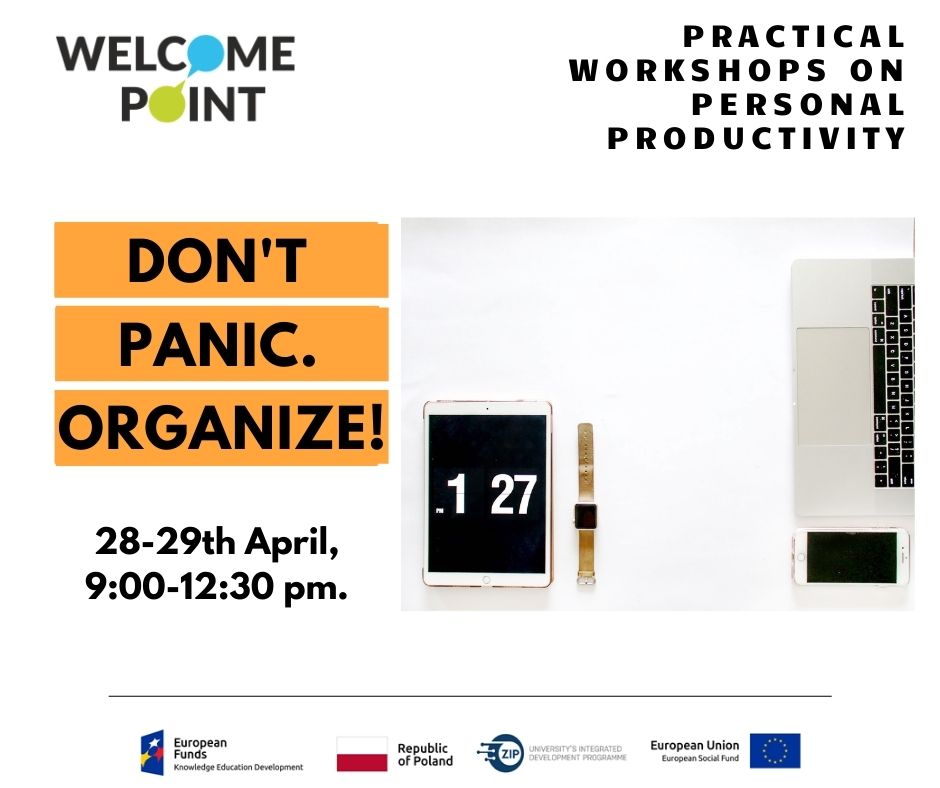 Welcome Point would like to invite you to our next workshops 'Don't panic. Organize! Practical workshops on personal productivity' with our expert Noemi Gryczko – a project manager in innovative projects who introduces modern technologies and design thinking to increase people's productivity and potential. During the event you will look into various techniques and mobile apps and discuss the potential of automation and delegation. Finally, you will talk about Poland and the cultural context that defines the attitude toward punctuality and work-life balance. We are sure that this knowledge will help you optimize your ways of working and studying and to succeed in the exam session in June!
Our workshops are practical, therefore participants will be asked to express their opinion and work in groups.Therefore, you will need a camera and a microphone.
WHEN? 28th-29th April 2021, 9:00 am. – 12:30 pm.
Please note that attendance during two days of workshops is required.
WHERE? If you qualify for the workshop, we will send you a link to the meeting.
Who can participate? 
2nd and 3rd year students of first cycle (Bachelor's degree)
4th and 5th year students of uniform Master studies
students of second cycle (Master's degree)
Please note that these workshops are only dedicated to long-term students, not exchange students

Hurry up! The places are limited.
To register to the course please fill in the form.
Application deadline: 19th April (Monday) 2021, 12 pm.
Please also join our FB event.
You can find the workshop regulations here.
'Don't panic. Organize! Practical workshops on personal productivity' is organised within the Integrated Development Programme at the University of Warsaw and funded by European Social Fund. The objective, pursuing at the University of Warsaw between 2018-2022, is to develop competence of students and employees as well as implement the instruments which upgrade the management process of the University of Warsaw.