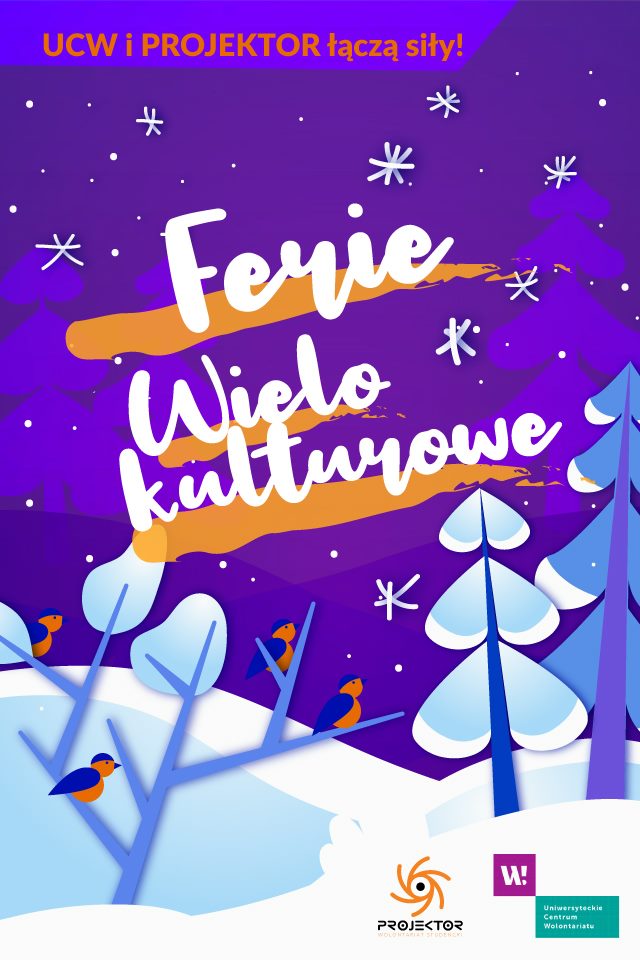 The Volunteer Centre of UW have joined forces with the programme "PROJECTOR – Student Volunteering" and would like to invite all the students to take part in Multicultural Winter Break. This is a unique student trip with a theme of multiculturalism. It's a great opportunity to rest after your winter exams in a useful and fun way! We are waiting for applications until January 7th.
What is the project about?
As part of the Multicultural Winter Break, with friends you can spend time in a chosen place in Poland, combining rest with the conducting educational project for children and youth from small towns. For 5 hours a day you will be able to run your own classes for a group of kids / teenagers, and the rest of the day is at your disposal. The trip will last from 10th to 14th February.
ATTENTION! You don't have to cover any costs related to the project trip. The PROJECTOR – Student Volunteering programme will cover the costs of traveling and materials for workshops (up to 400 zlotys for a team), and the school will provide the accommodation and food for you.
You will get prepared for the project during free of charge workshop sessions on intercultural communication, trainer's skills and how to work with a group, which will take place on January 17th.
What? Where? When? How?

The project consists of two phases.
I phase: Trainer skills and intercultural communication workshop sessions.
Date: January 17th 2020 from 10 am to 6pm (18:00)
Place: Warsaw, the Volunteer Centre of the University of Warsaw.
During the workshop sessions:
You will get to know how to prepare the workshop scenario to succeed.
You will discover games, tasks and energisers that you can use during your own workshop.
You will discover the methods of group integration and evaluation.
You will get to know the most important theories of workshops working styles (like Kolb's model of educational circles).
You will develop your skills on communication in intercultural team.
You will learn how to look through your cultural glasses from different perspectives.
In the session about intercultural communication, we will also answer to the questions such as:
What is culture?
How to communicate in the culturally diverse team?
How to talk about cultures without prejudices?
What are the main cultural dimensions that facilitate communication about diversity?
What are the differences, and most of all what are similarities between your culture and other cultures?
The workshop sessions are free of charge; we will provide the materials and some snacks. Participation is mandatory!
II phase: Project Trip
Date: from February 10th to February 14th 2020
Place: Schools in the voivodeships: Western Pomerania (Polish West Coast), Opole Voivodeship (Southern West of Poland), Lower Silesian Voivodeship (Western Poland), and Masovian Voivodeship (Central Poland, not that far away from Warsaw, still worth visiting!).
Who are we looking for?
Students and recent graduates, up to 29 years old:
Who are open to other cultures.
Who want to share their hobbies, skills and knowledge with others.
Interested in education.
Who likes to work with children.
Who are committed and engaged.
Who search for new challenges.
Who want to do something for others, no matter what their field of studies is!
You don't need to be experienced educator to take part in the project.
We will provide:
Insurance for the trip.
Costs refund for traveling and workshop materials (up to 400 zlotys)
List of schools to choose from.
Know-how and organisational support
Workshop sessions on trainer skills and introduction to intercultural communication.
The school that you will choose will provide accommodation and meals for your stay.
Why should you take part in this?
Along with the team you will have the opportunity to create your very own programme of workshops for children, based on your interests.
You will gain experience and develop competences such as communication, teamwork, working with children, time and project management. You will also learn new intercultural, trainer and language skills.
You will train your knowledge and skills in practice.
You will have an opportunity to visit and get to know Poland from a very new angle and spend your winter break in fun and useful way!
How to apply?
Gather your team of 2-3 people. It will be great if this is a Polish-international mix of people, but it's not a necessary condition.
Fill in the form.
We are waiting for your application until January 7th 12:00 (noon). You will receive the confirmation of the participation via email on January 8th before 4pm (16:00).
Note: If you don't have a team, and won't manage to gather it, we will help you in finding teammates. So do not hesitate to send your application.
Join our Facebook event and stay updated.
This could be the beginning of your adventure with community projects!
PROJECTOR and Volunteer Centre of UW can support your growth and experience!
In case of questions please email the Volunteer Centre of UW: wolontariat[at]uw.edu.pl
The Multicultural Winter Break was created thanks to the cooperation of the Volunteer Centre of the University of Warsaw and the "PROJECTOR – Student Volunteering" programme.