ID cards for degree-seeking seeking students are distributed by the faculties during orientation days or will be available at the dean's office of the faculty to pick up (you will be notified how you can receive your student ID).
If you are an exchange student, you will receive your student ID from the International Relations Office provided you have successfully uploaded your photo on the in the online application. More information can be found here.
Both exchange and degree-seeking students need to pay the fee of PLN 22 (~5 EUR) to receive the card. Payment of this amount is also required of local students, regardless of their origin.
Your student ID will not only confirm your affiliation to the University of Warsaw, but it will give you the possibility of benefiting from a variety of special offers, including a 50% discount on transportation in Warsaw. To be eligible for receiving a discount, make sure your ID is valid and you have it on you at all times. Read more about discounts here.
This is how the Electronic Student Card (ELS) looks like: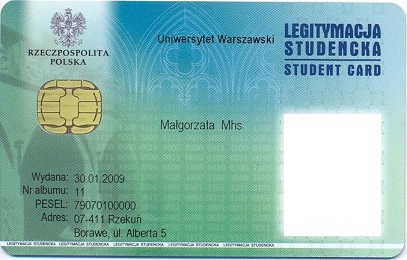 It is also possible to have an electronic version of the student ID (known as mLegitymacja).
It may be ordered by a student who meets all of the following criteria:
has an active student status;
has a PESEL number;
has an album number;
has a photo in the USOS system;
has an Electronic Student ID (plastic);
this (plastic) ELS was extended in USOS;
the student's personal data has not changed since the release of the ELS.
On 6th October the possibility of ordering, renewing and canceling mLegitymacja was introduced also via the USOSweb. All you need to do is log in to the system and go to the STUDENT's SECTION > mLegitymacja.