The candidates for the University of Warsaw are offered a wide choice of programmes in humanities, social and natural science, as well as numerous interdisciplinary programmes which combine knowledge and skills in various fields.
Bachelor's (1st cycle) and Master's (2nd cycle) degree programmes
→ 27 programmes in English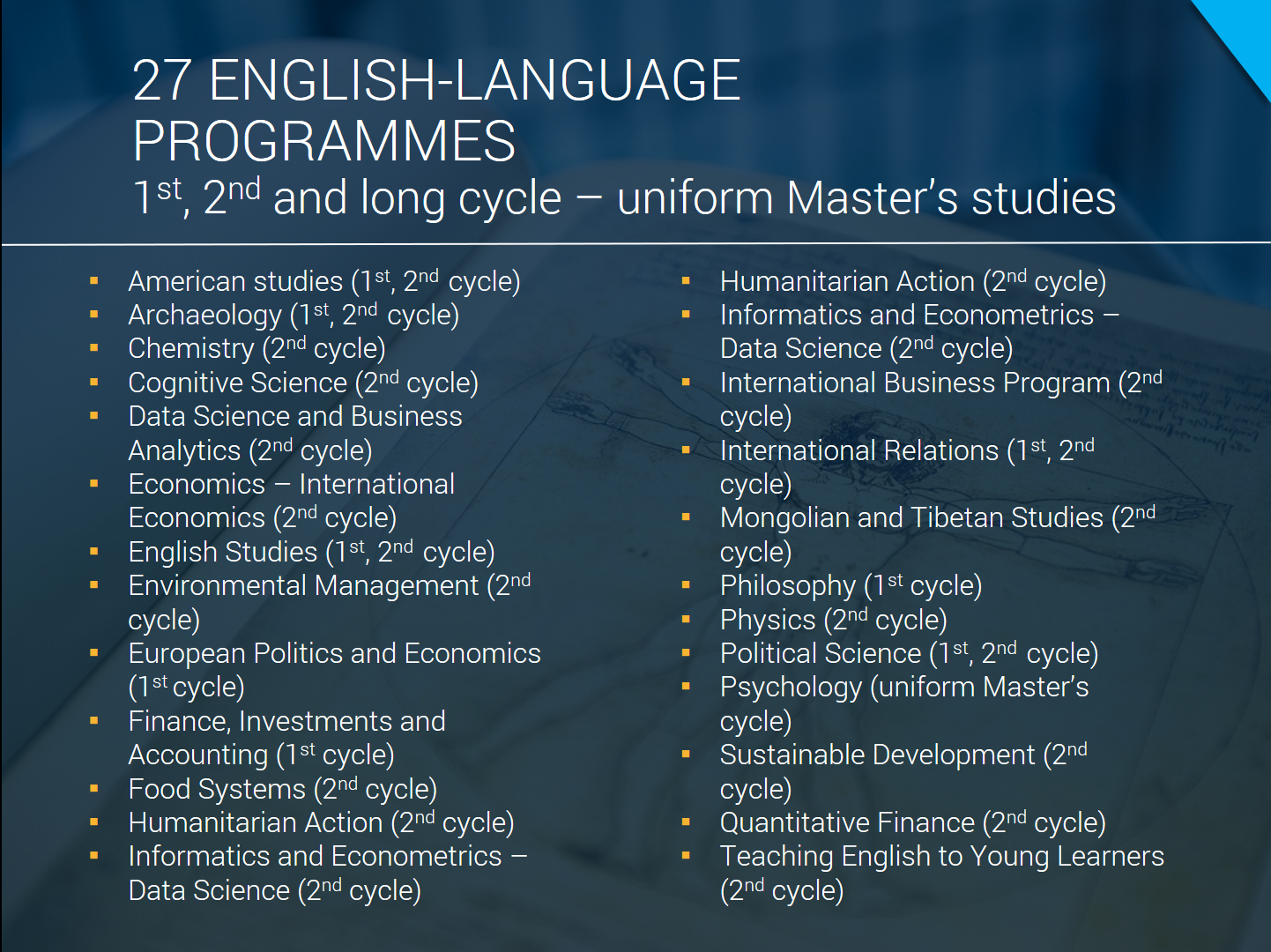 → over 100 programmes in Polish
Doctoral (3rd cycle) programmes
The University of Warsaw provides over 30 PhD programmes, including interdisciplinary ones and international ones. They are aimed at people who are interested in scientific activity and in conducting researches. However, the PhD programmes are also aimed at people who strive to reach a higher level of their professional career.
Currently the University of Warsaw provides two full-time international PhD programmes that are held in English language (the Faculty of Political Science and International Relations and the Faculty of Oriental Studies).
Additionally, most of the faculties of the University of Warsaw provide individual PhD programmes held in English that are aimed at foreign students. A potential candidate should contact a faculty he/she is interested in, in order to gain more information concerning individual PhD programmes.
Foundation Year
If the level of your English language is not high enough to be accepted for programmes in English (certificate at B2 level is required), you are advised to take the Foundation Year for secondary school graduates.
This is an intensive programme aimed at improving language skills, as well as preparing candidates wishing to study in English at the University of Warsaw or other Polish universities.
The aim of the programme is to enable international students to start degree studies in English in a chosen field of social studies, humanities or science at Polish universities. The entry requirement is possessing English language skills equivalent to at least B1level, according to the Common European Framework of Reference for Languages, assessed on the basis of the UW placement test.