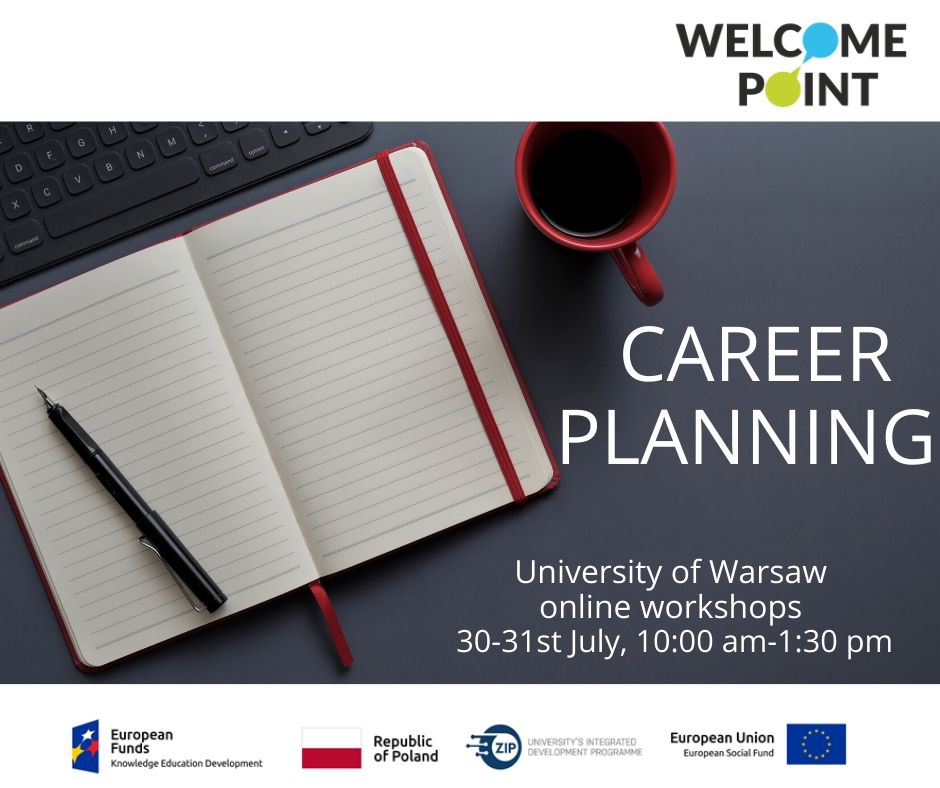 We would like to invite you to the next online workshop organised by Welcome Point. This time it will be 'Career Planning' workshops with a professional trainer Joanna Jasińska, PhD
The purpose of our workshop is:
getting to know the trends on the Polish market, employers' expectations and effective ways of looking for a job,
clarification of skills and predispositions and individual professional goals of workshop participants,
developing application documents (CV and covering letter),
simulation of interview with the employer regarding work – self-presentation
creating an individual (general) professional activation plan for each participant
WHEN? 30th – 31st July 2020, 10 am – 1:30 pm.
Please note that attendance during two days of workshops is required.
WHERE? If you qualify for the workshop, we will send you a link to the meeting on one of the online platforms.
Who can participate?
2nd and 3rd year students of 1st cycle (Bachelor's degree)
4th and 5th year students of uniform Master studies
students of 2nd cycle (Master's degree)
Hurry up! The places are limited.
To register to the workshop please fill in the form: https://forms.gle/u54hdw3a4FbMVWsVA
Application deadline: 20th July, 2020, midnight
'Career Planning' workshop is organised within the Integrated Development Programme at the University of Warsaw and funded by European Social Fund. The objective, pursuing at the University of Warsaw between 2018-2022, is to develop competence of students and employees as well as implement the instruments which upgrade the management process of the University of Warsaw.