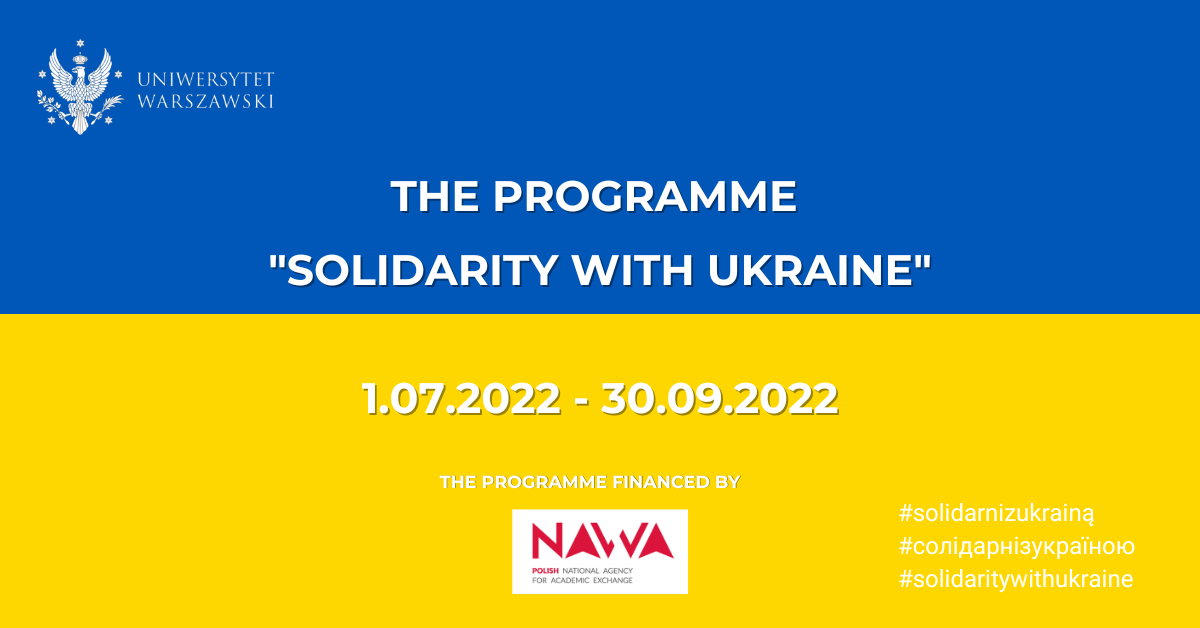 Admission for the programme "Solidarity with Ukraine" has been launched. Admission process is conducted from 6th to 19th June. The registration page is available here. 
The course will last from July, 1st to September, 30th, 2022 and will be financed by NAWA (Polish National Agency for Academic Exchange). 
One of the modules is aimed at people who are students in Ukraine in the academic year 2021/22, who crossed the border of the Republic of Poland no earlier than February 24, 2022, and intend to continue their studies at the University of Warsaw.
All participants will receive free education, as well as a scholarship of PLN 1,500 per month.
The main aims of the course are:
learning Polish with an emphasis on communication and vocabulary useful during studies,
learning English,
preparation for studies at the University of Warsaw through familiarization with the structure, rules and possibilities offered by the University,
adaptation to a new situation,
providing basic knowledge about Polish culture and communication in a multicultural environment,
strengthening personal, social and digital competences, including skills in coping with stress, mental resilience, time management and organization of own work, team work, learning techniques, operating information systems essential in the education process.
The inauguration of the course will take place on July 1, 2022. Participants will learn about the program and the rules of participation in the program, about the structure of the University (who is who), and find out what fields of study and research opportunities are offered by the University of Warsaw.
After the information part, there will be a walking guided tour around the Main Campus of the University of Warsaw, during which participants will learn about its history and interesting facts about the University and people associated with the UW.
All participants will have the opportunity to benefit from psychological and legal assistance, as well as the support of mentors from ESN and administration.
There will also be a second module of the programme, dedicated to PhD students from Ukrainian universities who would like to continue work on their doctoral dissertation at the University of Warsaw.
The admission criteria include the submission of a complete application for studies at the University of Warsaw and the order of applications.
The programme is organised by: International Relations Office, Office of Innovation in Teaching and Learning, Welcome Point, Centre of Polish Language and Culture for Foreigners "Polonicum", Centre for Foreign Language Teaching.